Gocean-WJU (GoWJU) Learning Center (Silicon Valley/Chengdu) was Founded
S&T Service Seminar on Integration of Industry and Education in Silicon Valley was successfully held and Gocean-WJU (GoWJU) Learning Center (Silicon Valley/Chengdu) was founded on July 2, 2021 at USJ. WJU SP Dr. Tony Hu, USJ president Dr. Claude Wang, USJ VP Dr. Bin Li, Dr. Jim Hao, JD Tom Tafolla, attended the seminar.
1 GoWJU was founded
GoWJU (Gocean-WJU) Learning Center (SV/CD) is a platform that is jointly supported by WJU and Gocean/USJ/USJEDU and operated by USJEDU to provide comprehensive services for talents in the Science and Technology Service industry. It mainly includes combined Bachelor-Master Degree Program and combined Associate-Master Degree Program. After graduation, students will receive WJU undergraduate and master diplomas. It also includes international mutual recognition of credits and paid internship training in Silicon Valley. It mainly serves local Silicon Valley students and international students to help them achieve better development in their studies, employment, and entrepreneurship.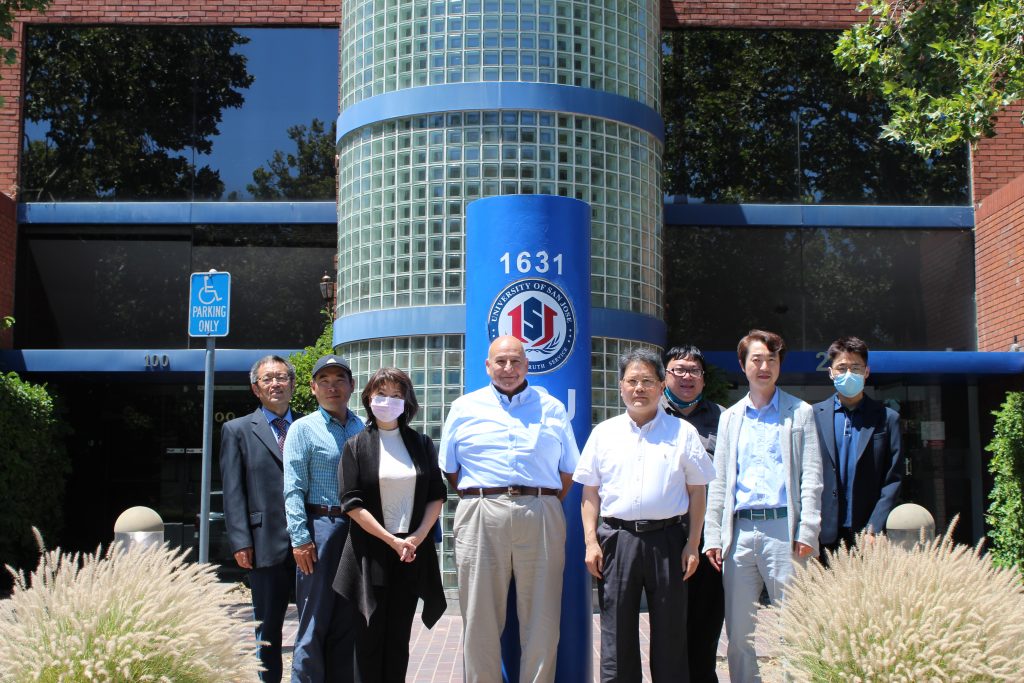 2 Presentation Summary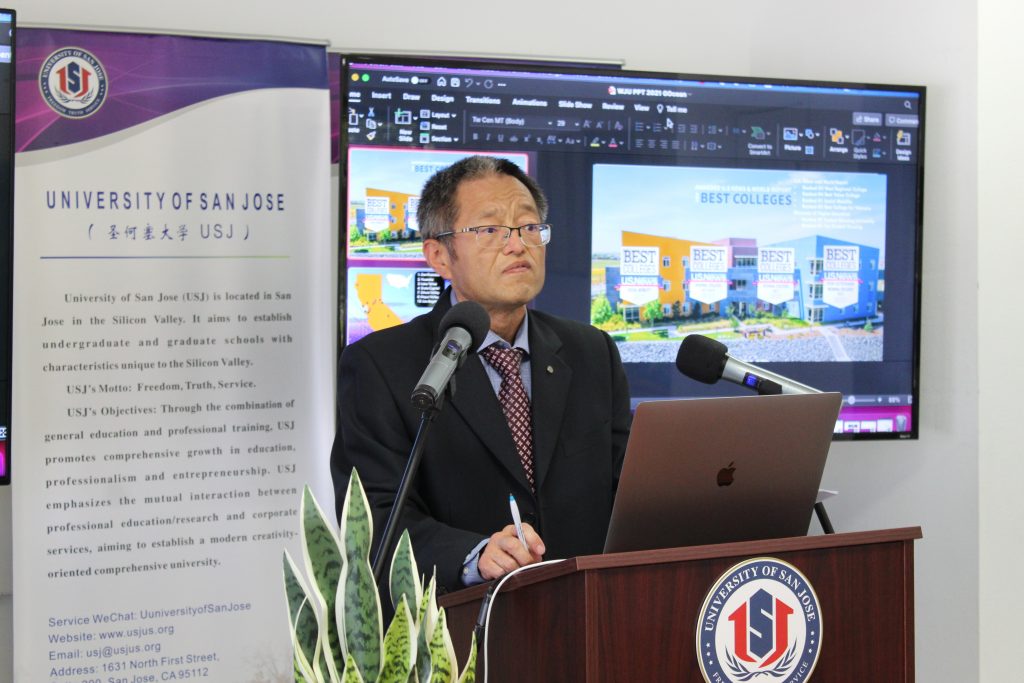 Speech Topic 1: Science and Technology Service Talents Training System of WJU
Speaker: Dr. Tony Hu, WJU SP
Speaker Introduction: Special Advisor to the President of WJU, Stanford University Ph.D.
Dr. Tony Hu gave a short introduction about WJU. WJU has two campuses and the new campus is 135 Acre. WJU has more than 1900 local students and more than 600 international students – 65% from Asia, 8% from Europe, 15% from South America & Africa and 12% from Canada and Mexico.
The most popular majors at William Jessup University include Business (Finance, Management, Marketing, Non-Profit Management), Computer Science (Cybersecurity, Digital Media Art, Web-based Applications and System), Creative Arts (Arts Management), Kinesiology (Exercise Science Health & Wellness), Music (Commercial Music, Music Theory Composition, Music Education, Performance, Worship), Public Policy, Public Administration, MBA and so on.
WJU's Master Program provides special MBA & MSCS courses, guaranteed internships and career opportunities. It provides opportunities for students to learn the latest Silicon Valley Technology Trends with professors from Top 20 brand Universities with full-time CPT, flexible class schedule (once per month), and career-minded programs. Dr. Tony Hu then explained the benefits of the Master Program, especially the MBA courses in WJU, and many internship opportunities with Name Brand Silicon Valley Companies such as ORACLE, Facebook, Google, Twitter, etc.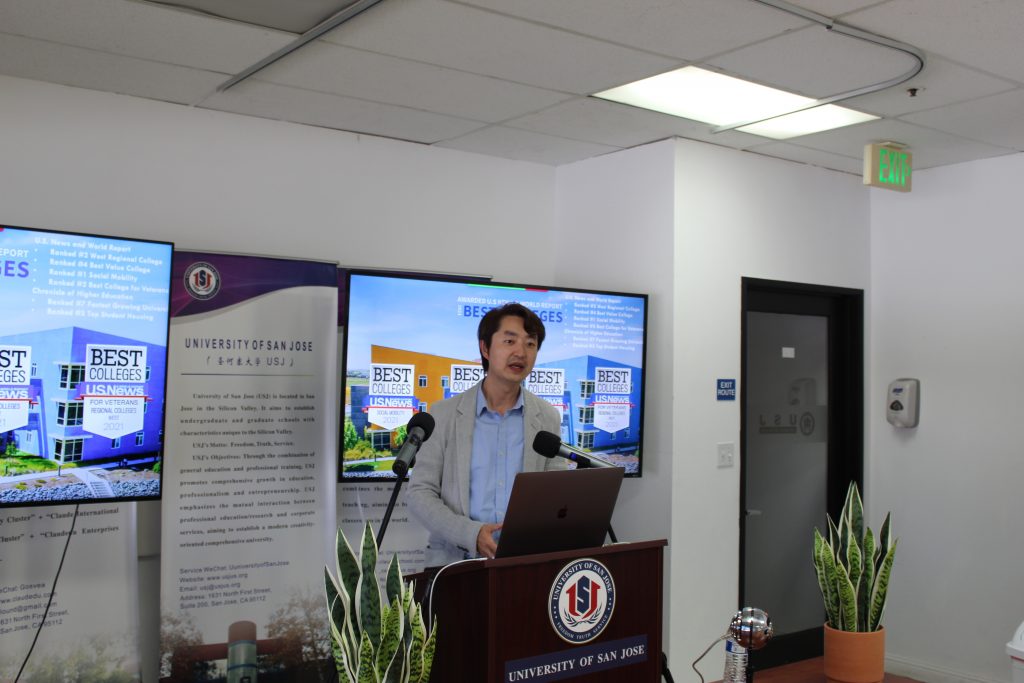 Speech Topic 2: Thoughts on the Development of Silicon Valley Technology Service Industry
Speaker: Dr. Claude Wang, President and CEO of USJ
Speaker Introduction: Bachelor of Tsinghua University, Ph.D. of Peking University, Founding President of USJ.
Dr. Claude Wang discussed the concept of "Knowledge-Intensive Business Service". Starting with the background of KB, he gave two interesting cases which are "UK Taxi Driver" that changed the Business Model and Public Policy and "Innovation of technology" which led to the beginning of science and technology Services.
Then Dr. Wang talked about the main ideas about the vital talents required to start up a company successfully: Leadership, Productivity /service, Business model, Message System, Marketing, Communications, Sales, Negotiation, Management, and Execution.
After that, Dr. Wang talked about the main idea and requirement for KIBS, and how to make the connections between two parts.
Finally, Dr. Wang analyzed the "Gatekeeper Theory", "Knowledge Transferring Theory", "Creative Service Theory", discussed the benefits of the USJ Program.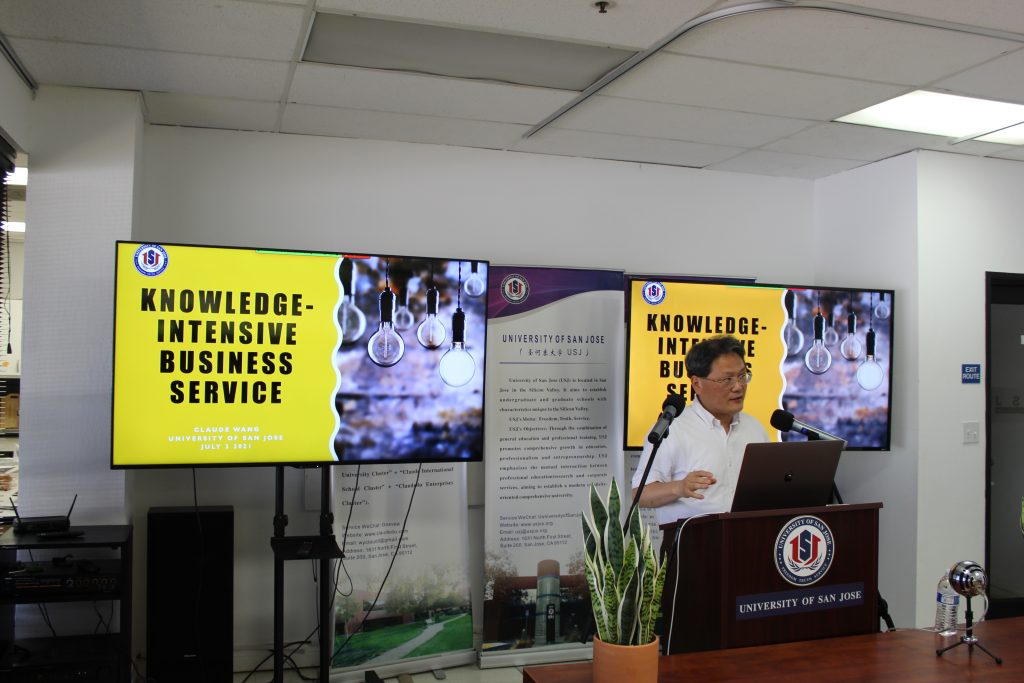 Speech Topic 3: Case Study of Silicon Valley Technology Service Industry
Speaker: Dr. Jim Hao, VP, and Director of E-Learning of USJ
Speaker Introduction: Ph.D. of Tsinghua University, VP and Director of E-Learning of USJ. He is a senior scientist at Oracle, a big data expert at FLAG.
Dr. Jim Hao discussed the topic of how to find talents for technology service companies in Silicon Valley. He introduced the talent acquisition for SMB: Information technology, technical finance, Legal, Accounting, IP, HR, Content, Sales and marketing, and Certification.
Then he explained this theory by a case study about Oracle. Including the Oracle Education Foundation (OEF), Oracle Giving (Corporate Citizenship), Oracle Interns, College hire, Direct hire, recruiters, job board, and Oracle University (OU).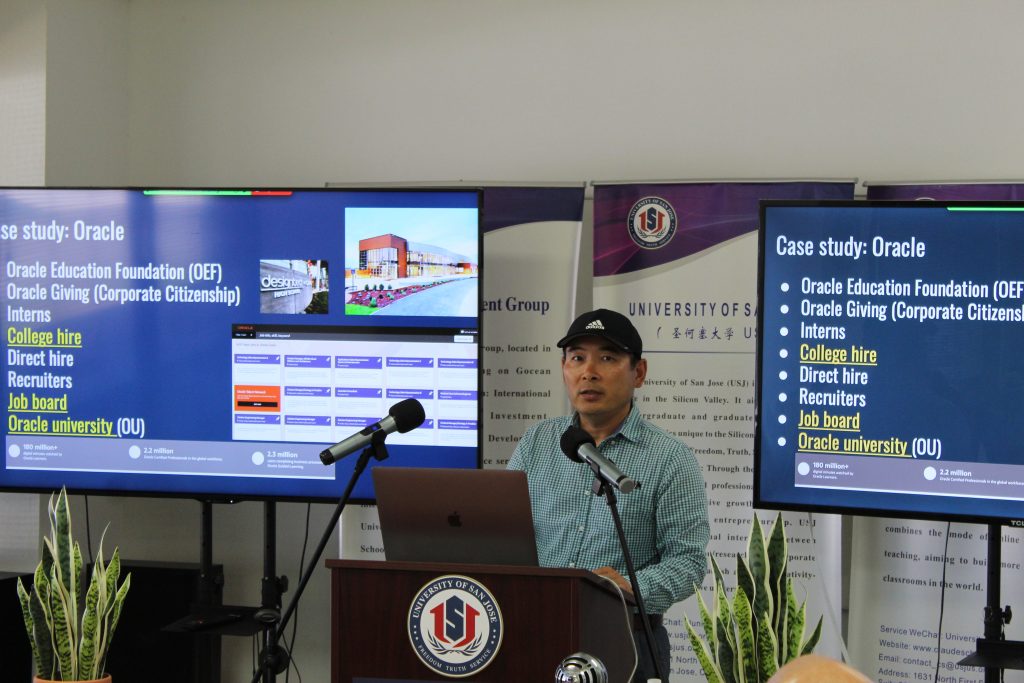 Speech Topic 4: Silicon Valley Technology Service Talent Skills Framework
Speaker: JD. Tom Tafolla, VP and Professor of USJ
Speaker Introduction: VP and Professor of USJ, Senior Enterprise Management Expert in Silicon Valley.
JD. Tom Tafolla discussed the Strategic Training Framework. Started with the summary of Silicon Valley Economy in 2021, he talked about The Silicon Valley Employment Divide
Which are High-Tech Workers are Privileged, Direct Service Workers Suffer, and Post-Pandemic High-Tech Still in Demand.
JD. Tafolla then explained the Strategic Jobs Training in Silicon Valley by analyzed the Largest Tech Companies in Silicon Valley and Tech Industry Jobs in Demand. He concluded that the key points for successfully Education Training in Silicon Valley are Identify High-Demand Tech Jobs,
develop Relationships with Name Brand Silicon Valley Companies, Match Courses to Support Preparation for In-Demand Industry Positions.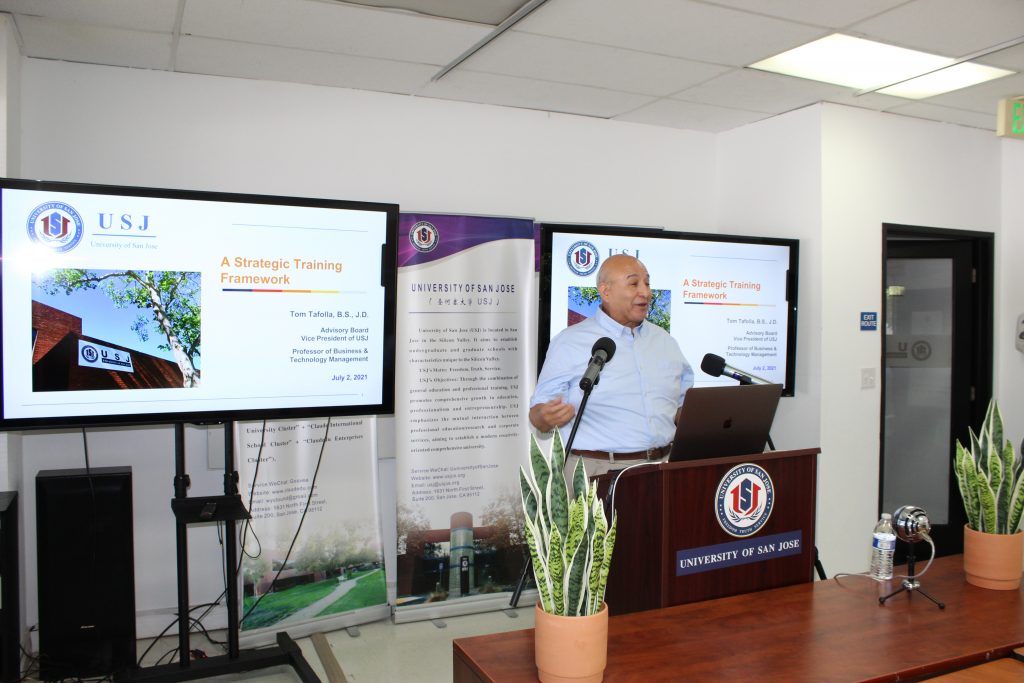 Speech Topic 5: LINQ One Platform: All in One Solution for Future Online Institution.
Speaker: Mr. Cheng Ma
Speaker Introduction: Director of Engineering in LINQ.
Mr. Cheng Ma gave a Brief Overview of the EdTech Industry and Technology in 2021, he first explains the EdTech Industry's current situation, key players, and EdTech trends after COVID-19.
Then he analyzed deeper into the concept of the EdTech Industry by a case study of the pros and cons between Canvas, Udemy, 2U, and Coursera.
Finally, he talked about his team's data-driven, AI (Artificial intelligence) powered online learning platform LINQ, including the technical stack, AI Algorithm, data Security, UI/UX Redesign, etc.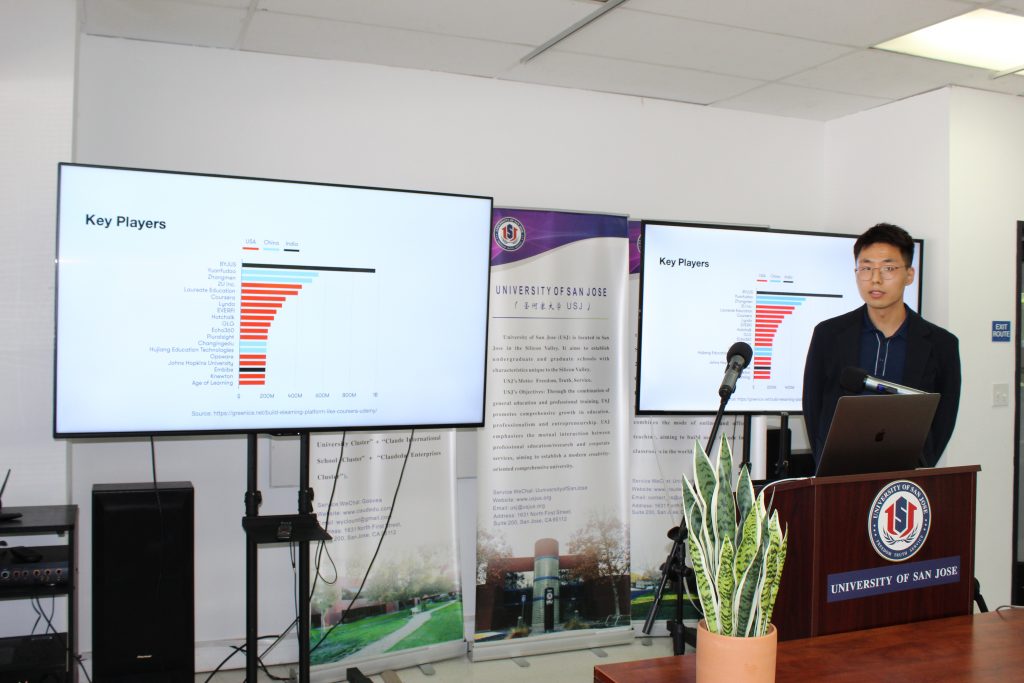 Congratulations to the successful Seminar and GoWJU!