School of Blockchain at University of San Jose is to offer students a comprehensive understanding of what blockchain is and how it impacts the technologies as well as economics. Students will also learn to develop blockchain applications using popular blockchain frameworks, such as bitcoins and ethereum.
Two programs are offered:
Blockchain Financial Executive Seminar will discuss the principle and business insights of the blockchain by introducing a series of the blockchain innovation cases in financial area at Silicon Valley, and demonstrate the impacts and potential opportunities in the banking and financial industry. Executives or employees in the financial industry, or entrepreneurs in the P2P or Fintech industries are cordially invited to join this exciting seminar.
Blockchain Core Technology will cover: Blockchain history – what is blockchain and when it starts Blockchain applications in finance and high-tech Blockchain technologies – how Blockchain achieves decentralization Blockchain frontier – Blockchain is still rapidly evolving Blockchain development – develop your own blockchain app.
FacultyMembers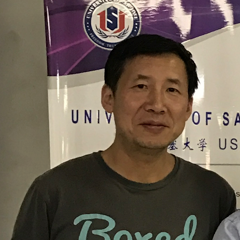 XiaoMing Tian
Executive Director
Andy Tian is a professor of University of San Jose. Combined his Master's Degrees from USC and CMU, with years of experiences of product demand forecasting and inventory management using big data infrastructure and deep learning technology in Walmart Labs, Andy Tian makes himself an expert on Deep Learning Technology.


Courses: